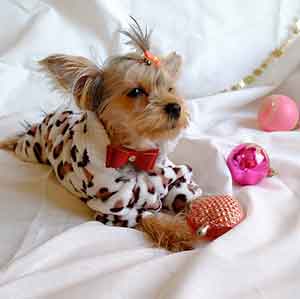 You want your Yorkie to be protected from the cold weather and also look stylish. Your Yorkie is your baby, you want nice Yorkie clothes for him and you love him so let's get him a nice sweater.
The sweaters we have are of good quality, comfortable, and look good. You want your Yorkie to look fashionable and keep warm,? then we have your back. No junk here. Your Yorkie deserves the best Yorkie clothes.
In this post, we'll look at 8 of the best Yorkie sweaters for your little dog.
KUOSER British Style Plaid Dog Coat
Wind & Water Resistant
6 different colors to choose from
Lightweight Material
Warm & Cozy
7 different sizes available
This is a nice coat with thousands of positive customer reviews. The material is polyester and cotton. It has easy to use hook and loop closures which makes it easier to put it on and take it off. This is a reversible dog coat, the plain side is water-resistant but you can sport the plaid side or the plain side, whatever your Yorkie desires.
JoyDaog Fleece Lined Dog Jacket
Lightweight
Wind resistant
2 layered fleece lined
Metal snaps
Polyester fabric
7 Different sizes
8 colors to choose from
This is a nice coat sure to keep your little Yorkie warm. It has a small hole at the neck for a leash. This can be worn inside or outside and because it's so soft your baby will probably want to keep it on all the time.
Fashion Focus OnSmall Dog Sweater
Knitwear soft sweater
Woolen Material
Easy wash and dry
Keeps your Yorkie warm and cute
6 different sizes
12 colors
This is a nice warm sweater for your Yorkshire Terrier. It's made of woolen material to keep him or her cozy and look good at the same time.
Gooby Stretch Fleece Dog Vest
Easy on and off
Machine Washable
Accurate sizing
Keep your Yorkie warm
15 different colors to choose from
10 sizes
90% Polyester, 5% Polyurethane
Retains Heat
Stretch Material
The Gooby stretch is a good strong and durable vest that is comfortable and can be worn for long periods of time. It's warm and lightweight. A good quality vest for your Yorkie. It's wrinkle-resistant and retains its shape. This is a quality piece if you looking for good Yorkie clothes.
KOOLTAIL Dog Sweater
Pullover sweater
Machine washable
Pink and Red or Khaki and Navy
2 pack
3 sizes
The Kooltail dog sweater is a cool piece for your little Yorkie you have to choose one of the 2 packs. The Khaki and Navy pack or the Pink and Red pack. The neckline and lower hem are hand sewn. Nice soft material
CHBORLESS Dog Sweater
6 sizes
10 colors
Cotton blend
Pullover style
With 10 different colors and 6 sizes to choose from your sure to find a nice fit for your Yorkie. The material is a soft cotton blend so it will be comfortable to keep on all-day. You could also use this for your Yorkie's pajamas.
Mihachi Dog Sweater
Terylene Fabric
5 sizes
4 colors
Pullover style
Elastic high collar
The Mihachi Dog sweater is more of a fashionable sweater. It looks like a sweater that grandma knitted. There is a hole at the neck for a leash. Nice turtle neck design. This is a soft and comfortable sweater that can be worn all day.
Scheppend Adidog Sweater
13 sizes
10 colors
Cotton Material
Solid Print
Durable Buttons and Stitching
Adidog tracksuit for your Yorkie is sure to turn heads. This is so cool. Great to wear for walks. Keep your Yorkie in style with the Adidog sweater.
Do Yorkies like to wear clothes?
Yorkies are a small dog breed with human-like hair instead of fur and lack the undercoat that other dogs have. Keep your Yorkies hair short and or well-groomed. If your Yorkie is in a cold climate, outdoors when it's cold, or in an air-conditioned home he would surely appreciate wearing clothes. Being a small dog means that they will also lose their body heat quicker than a big dog like a German Shepherd.
What size clothes do Yorkies wear?
Yorkies will need clothes that are small, X small, or even medium because they are a small dog. But Yorkies come in different sizes from the small teacup size around 3 lbs. up to 10 lbs. So if you see an item you like look at the product description and in it you will find the neck and back measurements.
Conclusion
We hoped you enjoyed this review of all these beautiful sweaters for Yorkies. I'm sure at least one of these sweaters captured your interest. Whichever that one is your Yorkie will be glad to wear it and will feel loved by you, get ready for the kisses.